12v 6KW Hybrid Diesel Water and Air Combi Heater for RV Boat Heater
CR12 diesel combi heater is a heating system which specialized for motorhome.
Heating cabin air and living hot water (shower,cooking etc).
Can be used while driving.
The maximum working height is 4000 meters.


Working modes:
Heating air only
Heating water only
Heating air and water
Its power is 6KW, supporting 12V DC, 200V-250V mains power, fuel is diesel.
Product Details
Technical sheet
Similar to
truma D 6 E
Rated Voltage
DC12V
Operating Voltage Range
DC10.5V~16V
Short-term Maximum Power Consumption
5.6A
Average Power Consumption
1.3A
Fuel type
Diesel
Fuel Heat Power
2000w/4000w/6000w
Fuel Consumption
160/320/480 g/H
Quiescent current
1mA
Warm Air Delivery Volume m³/H
287max
Water Tank Capacity
10L
Maximum Pressure of Water Pump
2.8bar
Maximum Pressure of System
4.5bar
Rated Electric Supply Voltage
~220V
Electrical Heating Power
900W/1800w
Electrical Power Dissipation
3.9A/7.8A
Working (Environment) Temperature
-25℃~+80℃
Working Altitude
≤4000m
Controller
LCD
Combi heater weight / size
510×450×300mm/15.6kg(Without water )
Package size / weight
heater box: 600*485*400mm/21.8kg
parts box: 485*485*260mm/5kg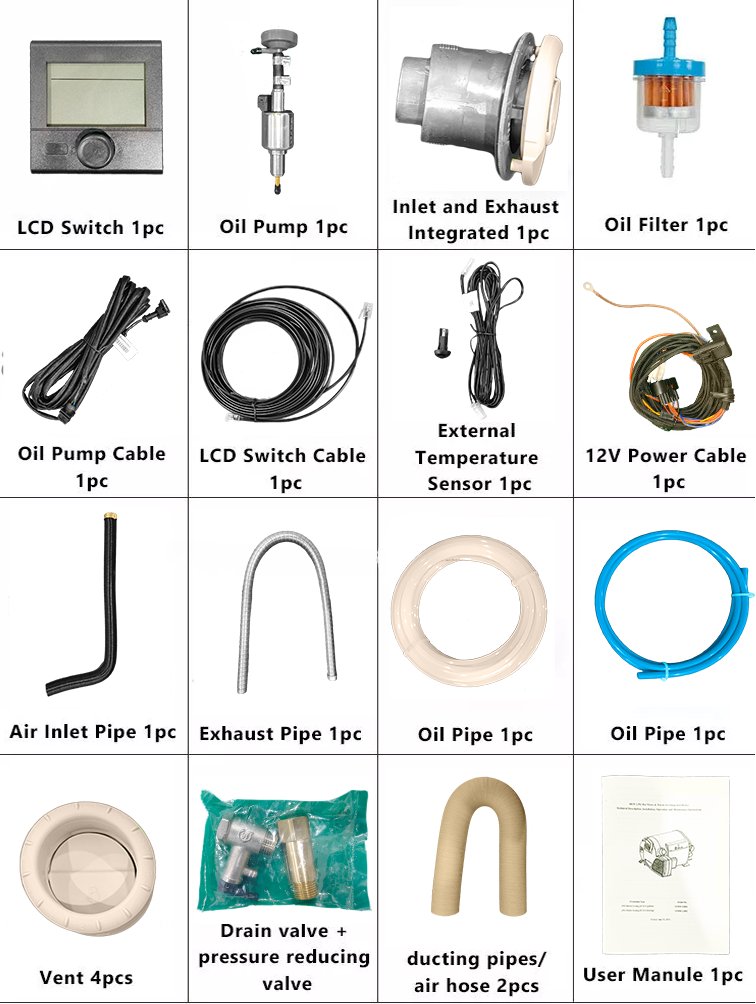 Inquire Now
If you have any questions or needs about the product, please fill in the following form and we will contact you as soon as possible.